About us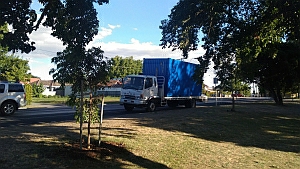 We specialise in interstate transport at back load rates.
Our Service is ideal for the general public, small businesses and government departments that are looking to save money.

When you are wanting to move, or move something interstate, is hard to know where to start looking. One way to start is by calling the 'big' companies like Grace Bros, Allied or Wridways/Sante Fe. If you give them the job it will most likely be done by one of their owner driver contractors.

That's how nearly all of these big overseas companies operate. They are really just brokers operating a franchise type of business for their sub contractors.They charge markups of 40% to 60% over and above what they are paying the poor subbies. What's more, most of them are overseas owned, so all the profits ultimately leave the country.

For the ordinary average private person the idea of using one of these big 'AFRA* Furniture Removalist companies to move interstate can be a terrifying prospect. Even making contact can be a daunting experience. Its been likened to walking into a 'Trade plumbing' or 'Trade electrical' warehouse and asking for a light switch or a tap: A sneering look as you walk in the door and then 'Do you have an account mate ? .. No ? .. ok that will be 50% more for a start.Sorry mate, yeah.'

The big AFRA member companies are largely there to service the government and corporate sectors, and their often exorbitant prices reflect that.

They don't really want the hassle of dealing with the public.

Fortunately there are many small to medium independent and family owned furniture removalists.

They typically have one or more large trucks set up to reliably go interstate and long distance, and a few smaller vans and pantecs for the little removal jobs around their local area. Some of these removalists make regular interstate runs for their own commercial clients, and others will go interstate on an intermittent basis, when for example, a previous client moves interstate.

We have established long term relationships with many great removalists like this. Some of them are contractors that also work for companies like Grace Bros or Wridgeways and there are some who also happen to be AFRA members.

By staying in touch and informed about their upcoming trips away from home we are able to offer a mutually beneficial service for everyone.

When you book through this us, your transport jobs are mostly done by carriers that are 'already going that way'. So the cost of the round trip is shared between all users. That saves a lot of money. For example just driving a Furniture Removal truck from Brisbane to Victoria and back (without counting the loading and unloading time) can cost around $5,000 to $6,000.


Our Backload Service is good for you, good for the contractors and (clich? warning!) good for the environment!
Importantly, we can usually arrange for a pickup on a specific day when that matters.

Most bookings are like that. Picking up on a given day is not an unusual request for us. We know that when you are moving, your load needs to be collected on the day that its booked ? there may be flights to catch or other people moving in.We have been co-ordinating backloads for many may years, and we have the back room systems in place to help ensure your jobs.

Of course things can go wrong. A lot can happen in transport that is beyond anyone's control. Vehicle breakdowns, traffic problems, bad access and unavailable contacts at pickups and deliveries and people having more stuff than they say they'll have can all cause delays.

It happens to every company in transport, and in particular to removalists because removals are so unpredictable. Removals are all 'one off' jobs, mostly to and from buildings that the removalist will never visit again.

Just finding where an apartment actually is and the best place to park in some of the elaborate modern apartment complexes can take 30 minutes or more.

However because we have so many contractors in the system, you won't need to 'wait till the next trip' until your job gets done.

To find out more- please click here:

More Info - A directory to all our pages

Particulary Helpful will be:

FAQs Frequently Asked Questions - The answers to everything you may have wanted to know.

Hints - To help you prepare for your move

* AFRA -Australian Furniture Removals Association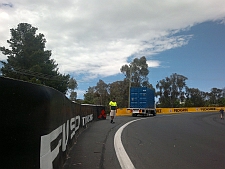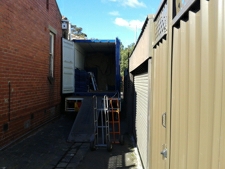 Finally, for the benefit of the world's biggest search engine (long may it live!!) here are some of the places we go to:

Daily pickups all capital cities, country towns and anywhere in between.

Backloads from Victoria to New South Wales, Queensland, Canberra, Tasmania, South Australia and Perth.

Backloads from New South Wales to Victoria, Queensland, Canberra, Tassy, South Australia and Perth.

Backloads from Canberra to Victoria, NSW, Queensland, Canberra, Tasmania, South Australia and Perth.

Backloads from Adelaide to Victoria, NSW, Queensland, Canberra, Tasmania, and Perth.

And of course we go to:

Bathurst, Wagga, Horsham, Wodonga, Albury, MacKay, Cairns, Rocky, Bunbury, Moree, Bundaberg, Ballarat, Port Augusta, Leongatha, Toowoomba, Urungan, Newcastle, Tamworth, Mt Gambier, Launceston, Warrigul, Devonport, Moe, Mildura, Dubbo, Roma, Gympie, Bendigo, Daylesford, Orange, Lismore, Traralgon, Caloundra, Hamilton, Townsville, Albury, Cowra, Swan Hill, Eden, Bombala, Parkes, Bairnsdale, Warrnambool, Glen Innes, Gladstone, Geraldton, Tailem Bend, Murray Bridge, Port Macquarie, Coffs Harbour, Secret Harbour, Sale, Castlemaine, Gosford, Wonthaggi, Bega, Wellington, Boronia, Airlie Beach, Colac, Armidale, Portland,Port Fairy, Wollongong, Goulburn, Morwell, Yass and all those sort of places. (* except Darwin and NT)